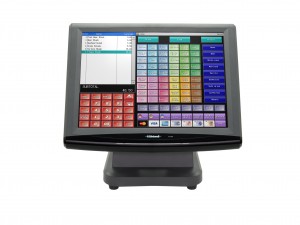 The Uniwell AX-3000 is a 15″ hybrid touchscreen running Uniwell's embedded software.
Features include:
Secure sign-on
Clock- In System for staff hours
Multiple price levels
Table tracking and Bar tabs
Graphical Table plan
Promotions can be set to auto start and finish
Take out/ Eat in system
Cooking Instructions to kitchen
Waiter Order Android software
Meal Deals
OAP Discounts
Loyalty system
Caller ID interface to pick up phone numbers
Net Alert system – Receive a text if product needs to be restocked-large void etc.
Till Alert system in conjunction with CCTV
Remote management via internet
Sales reports via internet
Chinese characters for kitchen print order
Affordable Back-Office software
Robustness of embedded software even allows the screen to be powered down mid-transaction without loss of data.
From busy restaurants and bars to fast food outlets, nightclubs and hotels the flexiblity of the software allows the system to be configured for table service or quick service.  Our Clients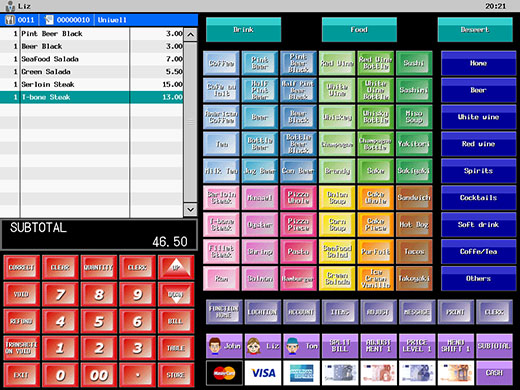 A new generation Pos terminal, the Ax-3000 is fast, reliable and affordable with all the features found in Pc based systems but without the hassles of the windows operating system. Fast and quiet with no moving parts (no harddrive, no fan)
In the earlier days of PC's when they were much more expensive, many Pos terminals ran on embedded software (ATMs, ticketing machines etc). With more powerful CPU's there is a move back to embedded systems as they are secure, stable and easy to operate. (Look around at Mobile phones, gaming machines and consumer electronics).
We think this is the best system for it's price on the market for hospitality
As well as speedy operation another  key advantage of embedded POS is instant power ON/OFF without waiting for an operating system to boot/shutdown.  No windows means safety from virus and hacking as well as  longer lifetime with lower maintenance and support costs.
For more information and prices call 01 5056521 or email: info@pospoint.ie