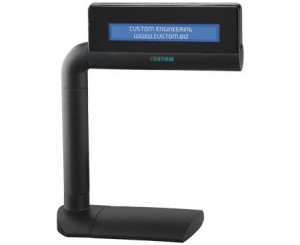 The XD customer display has a modern design with blue backlighting to give a clear sharp display of product name and price.
The XD is available with single or double side display and is available in short or tall version.
The XD is also designed to incorporate into the body of  Custom printers where the printer fits neatly under the display.
The display can be directly powered from a custom printer or can use a separate power supply with serial cable connection.
For more information and prices call 01 5056521 or email: info@pospoint.ie       www.pospoint.ie