Our entry-level Casio Se-S100 is a single-roll, thermal printing Cash Register. It is compact in size with a full-size  cashbase and an easy-change drop-in receipt roll (no ribbon required)
The drawer section contains 4 note clips and 8 coin sections and is of strong metal construction.
Your company name,  address and details can be set to print on issued receipt (5 Lines).
One-touch receipt option allows the user to issue a receipt only when required thus saving on paper.
12 Department/Category buttons can have a description printed on receipt and end-of-day takings reports.
The cash register calculates change due and displays quantities on the rear customer-side display.
The SE-S100 cash register prints a clear concise receipt, see example below.
Other functions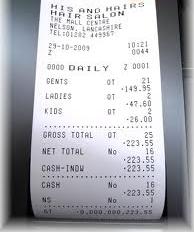 2000 Plu's
Voids and Corrections
Refund Mode
Discounts, by amount or percentage
Battery memory backup
Lock Cash Drawer
SD card slot enables auto saving of sales journal
2 Line LCD backlit display
1 Line Customer display
Dimensions: 410(W) x 450(D) x 180(H) mm (with full-size drawer)
For a demonstration or price call 01 5056521 or email: info@pospoint.ie